Okeechobee Attractions
Florida is blessed with some great lakes, but none are as impressive as the greatest of all, Lake Okeechobee – Seminole for 'Big Water!' Murals reflecting Okeechobee's history can be found throughout town, with one standing out in particular. In 1996, artist John Gutcher painted a larger-than-life mural, about half a football field long, celebrating the heritage of Seminoles and settlers.
On any given day boaters are setting sail, fishermen are casting lines and nets, and sightseers hang around at the picturesque pier for a closer look at the glistening water. For an entirely different perspective, hop on an Eaglebay Airboat Ride and glide the waters of the lake. Lake Okeechobee Scenic Trail is a 109-mile paved path encircling the lake and is enjoyed by hikers, joggers, and bicyclists.
The Big 'O', as it is fondly called, is what the locals call "Real Florida." These are just a few of the adventures that can be found here. Our friendly front desk team stands by to guide you on your way as you explore Lake Okeechobee!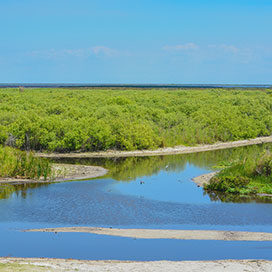 Outdoor Parks & Scenic Trails
There are so many outdoor adventures to explore while staying on Lake Okeechobee! You can hike scenic trails, fish for the lake's legendary largemouth bass and speckled perch, and catch a pontoon or airboat ride out of the marina. The Lake Okeechobee Scenic Trail provides a mostly paved cycling and walking route around the second largest lake within the borders of the United States. Additionally, Kissimmee Prairie is a land dominated by the great blue sky! You'll find a wide-open landscape for birdwatchers and photographers and have ample opportunity to catch sight of a grasshopper sparrow, crested caracara, or burrowing owl. Everyone will love exploring around Lake Okeechobee!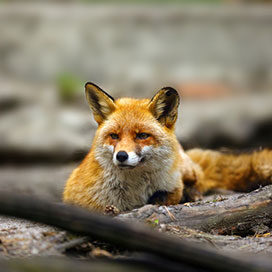 Arnold's Wildlife Rehabilitation Center
Arnold's Wildlife Rehabilitation Center is dedicated to bringing people and wildlife together to develop community awareness of the value of our Florida wildlife. Their ultimate goal is to rescue, rehabilitate, and return recovered animals to their natural habitat. It isn't just about Panthers, Camels, and Kangaroos at Arnold's Wildlife, they also house a number of smaller animals such as lemurs and otters. Additionally, you'll want to check out Arnold's Butterfly Haven! It's an open range, naturally occurring garden in motion, to which nearly 88 species of area butterflies are naturally attracted to feed and breed.
Seminole Brighton Casino
The thrills of Okeechobee, Florida begin at Seminole Brighton Casino. Located just over 30 minutes from the Days Inn & Suites, the casino is the ultimate playground for entertainment and fun. Take a break from the Florida sun and visit this entertainment complex with over 400 slot and gaming machines, high-stakes bingo action, and table games. Experience the thrill of gaming in the 27,000-square-foot casino or grab a bite to eat the on-site Josiah Restaurant & Lounge.